Among all things that can be contemplated under the concavity of the heavens, nothing is seen that arouses the human spirit more, that ravishes the sense more, that horrifies more, that provokes more terror or admiration to a great extent among creatures than the monsters, prodigies, and abominations through which we see the works of nature inverted, mutilated, and truncated.
Pierre Boaistuau, Histories prodigieuses, Paris, 1561
I
The idea of stimulating the senses through art is as old as creation itself. Throughout history, the development of painting has been ruled by canons that condition and curtail originality and, therefore, the expressions of life. The imagination and creative freedom found in Ramón Alejandro's paintings are an avoidance of these canons, a praise of the senses and an ode to and expression of life.
A man from another era, Ramón Alejandro has built his destiny from chance; with his paintings he tries to seduce and deceive before the astonishment that life produces in him.
Venus was almost fully illuminated by the sun during a lunar solar eclipse, on February 16, 1943, when Alejandro was born in Cuba, under the sign of Aquarius, into a Catholic middle-class Spanish immigrant family who had arrived on the island during the war for its independence. He grew up the youngest of five siblings. In 1952, his mother died when he was only nine years of age. This event would mark his sense of independence and self-determination.  Over time, Ramón Alejandro became an accomplished self-taught artist with an encyclopedic cultural knowledge.
In late 1960, at the age of seventeen, supported by his father and informed by his reading of politics and literature, he left the island for Argentina to live briefly with his older sister's family, after a short ideological affair with the Cuban Revolution. He had not finished high school. Within three years, Ramón Alejandro was taking independent art classes in Buenos Aires and Montevideo, traveling to Uruguay, Brazil, and Spain. In the summer of 1963, he ended up living in France. Encouraged by Argentinian friends and a Uruguayan art teacher, he went on to explore his curiosity for life, following the opportunities instilled as a childhood dream (by his art-loving maternal uncle) to become an artist.[1]
In memory of David Bilgeman, a friend who in 1992 on my first visit to Paris showed me the paintings of Catherine Blanchard and Ramón Alejandro. I would like to thank Ramón Alejandro for the possibility of dialogue, Israel Moleiro for the opportunity, and Amanda Fleites and David Freeland for insightful editing. These words were written ultimately between New York, London and Lisbon in planes and hotels.
Those first years of living in Paris were for Ramón Alejandro a period of intense activity, exploration, and unstoppable self-searching through which he was building his own persona and asserting himself through a discovery of his essence. It was a time in which he passionately studied French culture and wandered into the underground Parisian homosexual life.
Growing up, Alejandro had been surrounded by copies of classical masters (painted by his maternal grandfather before he moved to Cuba to fight on the Spanish side in the island's war for independence) from the Prado Museum in Madrid. These copies had shaped his taste, making the art of his own time unattractive to him. In Paris, as he avidly visited museums, his admiration for the paintings of the old masters increased, although he then "did not dare to paint for fear of not being able to do anything at their level."[2]
Alejandro was impacted and moved by Greco-Roman antiquity, by Romanesque cathedrals, and the Florentine Renaissance: "I did not even forgive the Gothic style and my repudiation of the Baroque was total. Not to mention abstraction or modernity in general. All the avant-garde art of the twentieth century seemed to me a sinister conspiracy to take away the wonderful toys that for me were the drawing, perspective and chiaroscuro of the Italian and Flemish Renaissance painters."[3]
For the moment, Ramón Alejandro joined the Parisian engraving workshop of the German-French artist Johnny Friedlaender (1912-1992), where he befriended Alighiero e Boetti (1940-1994), the Italian conceptual artist. Through an acquaintance at the workshop, he also met Cuban artist Roberto García York (1929-2005). In addition, Alejandro worked as an assistant-copier to the internationally known Greek homoerotic painter Yannis Tsarouchis (1910-1989), with whom he learned and perfected his painting techniques.[4]
Ramón Alejandro, as an emergent artist who was exploring his path into the arts, was able to establish solid connections within the elite of the Parisian art world. Often this network was linked by a significant group of intellectuals, many of whom were homosexuals who opened doors for Alejandro. Bernard Minoret (1928-2013), a discreetly gay homme de lettres, aesthete and writer, with whom he lived for eight years, introduced him by means of his salon to French intellectuals and taste-driving characters. There, early on, he met one of the most famous Parisian hostesses and patronesses of the avant-garde since the 1920s, particularly of surrealism, Marie-Laure Bischoffsheim, Viscountess de Noailles (1902-1970); as well as the writer, aesthete, philosopher, and father of structuralism Roland Barthes (1915-1980), who was interested in his painting and persona.
Later, supported and encouraged by Roberto García York, his recently exiled friend, Ramón Alejandro exchanged the tools of engraving for painting. Through his friendship with García York, he met up at Casa Cuba of Paris Cité Université with several young Cuban intellectuals, some of them scholarship recipients of the revolutionary government who became key figures later in his life; among them filmmaker Néstor Almendros (1930-1992), writer and poet Severo Sarduy (1937-1993), and painter Jorge Camacho (1934-2011).
It was also at Minoret's salon that Ramón Alejandro met Catherine Blanchard (1952-1993), a freethinker and fascinating artistic mind with whom he fell in love, later married and had two children. Catherine anchored Alejandro and became his partner in life's adventures and helped him focus on his creations until her unfortunate early death.
II
Il faut travailler, sinon par goût, au moins par désespoir, puisque, tout bien vérifié, le travailler est moins ennuyeux que s'amuser.
Charles Baudelaire [5]
Throughout the sixties and into the seventies, Ramón Alejandro's work, which slowly focused exclusively into drawing and painting, was concerned with the hypothetical conception of a sensorial architecture, invaded by a cult of the mechanical and built as an ode to machinery. His creations of soulless imaginary machines, which Ramón Alejandro referred as aparatos, were usually depicted floating or flying without a ground or base to rest on, perhaps as a metaphysical recreation of his religious and philosophical concerns. As Roland Barthes suggested, his conception of these structures within his painting edified a cosmology on and about the mechanics of aggression. The idea prevails that these aparatos are commonly associated with the culture of pain as a font of pleasure.
Those who follow astrology might associate this representation of sources of pain as linked to his zodiac sign, Aquarius. Although he had a Catholic upbringing, Alejandro later became interested in Hinduism and Buddhism, pursuits that were connected to and determined by significant personal life events.[6] As he was walking onto that path, he succumbed to the reading and study of the writings of oriental metaphysical doctrines by the French author René Jean-Marie-Joseph Guénon (1886-1951), a follower of Hindu pedagogy.[7]
These Ramón Alejandro machines resemble the architectural structure of the vimănas, flying palaces of Hindu mythology, thrones or chariots used by the gods to transport themselves long distances in a short period of time, and moved through the natural energy of the chakras.[8]
After a few years living in Paris and clearly following his self-determination to become mainly a painter, he created the first of these aparatos, Ce n'est pas du Louis XV (This is not Louis XV) (1968), which was disdainfully called by one of his acquaintances a "heteroclite object." This painting, and especially the intention that he gave it through its title, was a declaration of an artist who was voicing his incursion into new territories, as a painter and within the cultural life of France –his chosen new country.
Even though these structures appear to have been built as possible torture machines, humans are conspicuously hidden but not absent, as these artifacts seem to have been built by and for them. The idea of aggression and isolation conveyed by these structures is reinforced by what was, at this moment, Alejandro's typically limited color palette, which in the 1960s and early 70s was commonly reduced to two values, one for the aparato and another for the plain background. In time, the number of hues he used would increase.
According to Ramón Alejandro, some of his interests and inspirations in the creation of these aparatos were triggered by an essay on surrealism written for a major exhibition at Galerie Charpentier by the French-American writer Patrick Waldberg (1913-1985). He discovered the essay while in Montevideo; later, in Paris, he met Waldberg at Viscountess de Noailles' salon.[9]
At the same time, these structures could also be directly associated with some of his lush youthful Havana memories of early sexual explorations with a young neighbor. In his recollections, the neighbor, as an initiator, and to seduce him before the sexual encounters, always created a tale in which a "Cero de Luna" (as his friend called it), a round-looking artifact, often flew over the skies of moonlit nights. Alejandro recalls those days: "I took pleasure studying my perceptions, lay on my bed and listened to the silence until I thought I heard the music of the celestial spheres in a very subtle crackling that seemed to emerge from my own eardrum." [10]
Today, Alejandro thinks of this flying structure mentioned by his neighbor as his first ever encounter with a vimăna, which took form in his mind as an artifact built with a base of simple geometric shapes.[11]
All these works were developing in the midst of Ramón Alejandro's isolated reality of living among the utopian French intellectual elite and individuals who had their interests set on the history of their ancient families, while the student revolts and the struggles for independence and decolonization of third-world countries were taking place on the streets of Paris.
In late 1969, Roland Barthes wrote that "the machines of Alejandro are at the same time intransitive and in subjective; they deceive in this way the grammar of the representation more effectively than any surreal imagination […] because Alejandro is a painter, he forces us to read his machines a second time and to operate in us the deception of the deception." [12] Poetic examples of these moments in his body of work are El silenciario (1967), Dioscusos (1972) and L'ange à la fenêtre (1976).[13]
This attention to the structures / vimănas has maintained its presence in Ramón Alejandro's oeuvre up to the present day and seems to mimic traveling through the expanse of his cosmology. In the 1960s, his paintings often depicted these levitating solitary structures that usually took up the whole pictorial space, while in the 70s he focused on depicting solo floating sections or parts of them. The 1970s was also a time when these machines evolved by becoming simplified into more aggressive single parts or perhaps instruments built to grab, hold, and tear. Perhaps all his paintings depicting air-lifted aparatos are reflections of his intricate soul-searching journey. They are witnesses to his personal inner exploration, which shifted when he met and started living with Catherine Blanchard. It was not until the 1980s that Alejandro began to place these structures in imaginary landscapes, in some cases earthy rocky forests, in others, settings with insightful metaphysical overtones.
Representative painting from this moment of his career includes El nictámero (1981), L'entrée d'un long chemin (The entrance of a long road) (1982), Tout au bout d'un long chemin (At the end of a long road) (1983) and Le nature du désir (The nature of desire) (1984). In his writing, Ramón Alejandro refers to these landscapes with machines produced in the 1980s as "metaphysical landscapes of Celtic resabios."[14] He was inspired by ancient Celtic and Neolithic constructions like Stonehenge in England as well as others (such as Dólmenes and Menhires) found in Asturias, the region of Spain from which his paternal family originated.[15]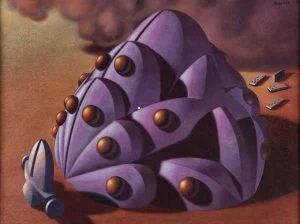 III
Tengo los ojos como linternas, tengo la boca como un farol, se han encendido todas las fibras que llevo dentro del corazón. Allá va Candela.
Ramón Alejandro [16]
It was during a 1988 trip to Caracas, where he was invited by renowned art dealer Cecilia Ayala (1926-2008) to exhibit at her Galería Minotauro, that Ramón Alejandro re-encountered for the first time since leaving Cuba a tropical landscape similar to the one of his youth. After the trip, the landscape and its fruits would find their way into his paintings. In his artworks he infused these new themes with elements of Western tradition, such as French painting, often working them throughout the compositions.
"When I came back from Caracas," Alejandro recalls, "I started painting in Paris the fruits I had eaten in Venezuela. I started with that theme and painted every afternoon. In the mornings I went to the Louvre to study especially the composition of Nicolas Poussin's major paintings."[17]
In his painting, the aparatos / vimănas are stiff artifacts that stem from light; they fly, float, and coexist in a metaphysical ethos. Meanwhile the fruits, self-containers of the natural order, are often depicted offering their blooming pulps, which he has experienced in the flesh, ingesting them. As such, Ramón Alejandro represents two different ways of approaching sensuality, through the mind and through the body. The mutation of his approach to the sensual goes from an outer perspective, mental and philosophical, to an inner gustatory one, sensorial and tactile. Within this move he is reapproaching the sensuality already explored with aparatos but using new elements and a new point of view.
It's a subject that still captivates him today, as shown within his latest paintings from 2022: Vertigo, Amanecer (Sunrise), Cazador de nubes (Cloud Hunter), Retorno a los fantasmas del pasado (Return to the ghosts of the past), Los navegantes (The Navigators), Los hermanos enemigos (Enemy Siblings), and Algunas maneras en que la madre naturaleza va organizando la materia (Some of the ways in which mother nature organizes the matter).
However, as Barthes warned, to avoid Ramón Alejandro's "deception of deception," it is essential to visit the artworks a second time. At first glance, the paintings look like scenography dioramas with surrealist overtones, but with these fruit-filled landscapes he is writing, creating a narrative, telling from introspection brief stories that he articulates with his pictorial tools. The compositional elements of his paintings are not the result of a simple exercise of accumulation; they are clues and signs, bearers of meaning resulting from his own personal journey.
Traditionally, these Caribbean fruits are also used as offerings to popular religious deities, and, as they appear in his paintings, sometimes the conversation drifts to Afro-Cuban religions, which Ramón Alejandro experienced firsthand during his youth in his culturally diverse Habanero neighborhood of La Víbora. He began to represent some of these deities, as in the case of Olokún (1996), as an enigmatic mollusk on a beach with extinguished candles. This goddess lives in the sea, and in Cuba the Regla de Osha is associated with Yemayá or the Virgin of Regla.
In his paintings, the conversations surrounding Afro-Cuban religions are also built by the use of patakines as references to create internal narratives among the depicted components.[18] The religious undertones are examined through a modernist vision that uses everyday elements and objects with a symbolic charge to understand and take delight in seduction, religiosity itself, and the underlying processes of life. In his pictorial narrative, he often alludes to and uses as an instrument the mysteries of the languages he knows, which he introduces to build and solidify the poetics of his iconography. At the same time, the construction of his own narrative is not exempt from a sense of humor, which in his creations is built from the ambiguity of chance.
This approach, which gives the impression of a random selection of elements, had led to Ramón Alejandro being called a neo-surrealist; but, although his work draws from surrealist sources, it does not mean that he pretends or intends to follow the canon. It is essentially the result of his passional vision. Simultaneously, it is a painting that aims to seduce and deceive; it has the purpose of capturing the gaze and attention, of opening paths – whether of popularly shared memories or of intimate remembrances. As a whole, his paintings, all of them, seem to be the materialization of postures; they are intrinsically overcharged with a sensuality that steals the attention and demands acknowledgment of the eyes. They are glowing expressions of his vanity which he does not reveal in his personal bearing.
Occasionally on his canvases his interest in narrative extends to the verso, which he uses as a medium to explore graphic design with intricate calligraphic words, leaving labyrinthine annotations that embellish the mystique of the artworks while becoming points of reference and information. These annotations are made with single monochromatic lines that fluctuate in thickness, often in black or red, which he constructs creating complex compositional formations. Most often these remarks are comprised of the title of the painting plus other writings such as popular phrases, his own verses and poems, or hints of his sources of inspiration. In Cuban modernism, the use of these dense lines as compositional instruments dates back to the work of Amelia Peláez, who used them masterfully in her paintings.
Without a doubt, his intention of creating narrations through painting could be associated with his appetite for and interest in literature, as well as his close involvement with writers and poets, especially those living in Paris, and some leading figures of the Latin American literary boom of the 1960s and 70s. Nonetheless, throughout the years Ramón Alejandro has kept an active multifaceted and close association with the publishing world, by being a writer and, frequently, illustrating publications, making artists' books and even establishing his own publishing house. Among the international publishing houses he has collaborated with are, in France, Fata Morgana, Les Cahiers des Brisants, Le Polygraphe, and Éditions Deleatur; in the United States, Ediciones Universal; in Spain, Alianza Editorial and Aduana Vieja; and, in Mexico, Arte de México.
IV
Freedom has always been my greatest passion
Ramón Alejandro [19]
Ramón Alejandro's oeuvre represents open spaces; as such, it breathes and transmits creative freedom. Capturing the anecdotal momentousness of a voyage, his paintings do not follow the surrealist canon; instead, they explore their own narrative. In general, he gives the impression that each painting is an instant snatched from a life journey. Throughout, he has been able to create and define a cosmology of self that flourishes as a result of the intersection of his cultural past with his life experience.
His cosmological line is not concerned with the why to paint but with the how to do it; thus, he explores the abilities that life has given him to enter into its mysteries. Painting is for Ramón Alejandro a game that allows him to seek immediate pleasure; that is, to distract himself from the ominous awareness that prompted him to draw in order to escape from the uncertain meaning of existence itself. Seeking to suffer less within the unpredictability of life, Alejandro composes mental puzzles that distract him from his common anguish. His aspiration has been "to sing the euphoria of living that sometimes hurts in the chest because it is so strong. The exaltation of the life impulse that sustains the universe, its enormous force, is what I want to paint. That is what I call the Mystery."[20]
Exploring sensuality is, for Ramón Alejandro, to probe into the mysteries of life. As he advances, he inquires into his own sensuality, into the sensuality of others, into that which associates, unifies, and dismembers us. Hence, from the mysterious aparatos / vimănas to tropical fruits, there is a path that moves from the metaphysical to the affective, from the speculative of the myth to the tactile evidence, with references to smell and taste.
In 1960, when Ramón Alejandro left Cuba, he did not expect to embark on the vital journey he celebrates today. At the time, he was a curious young man looking to explore beyond his world, which drastically changed overnight. Eventually, his dream adventure became a permanent situation, one in which for years he was not allowed to return to the island. He recalls the experience after years of exile: "My curiosity to see the outside world, coupled with ignorance of how wonderful Cuba really was, made leaving it a feast for me. Later I would realize what I had lost. But at that moment it meant for me the beginning of the journey to myself that I so longed for. The conquest of my solitude." [21]
---
* This text was originally published as words to the catalog of the exhibition Elogio de los sentidos, Latin Art Core Gallery, Miami.
** In memory of David Bilgeman, a friend who in 1992 on my first visit to Paris showed me the paintings of Catherine Blanchard and Ramón Alejandro. I would like to thank Ramón Alejandro for the possibility of dialogue, Israel Moleiro for the opportunity, and Amanda Fleites and David Freeland for insightful editing. These words were written ultimately between New York, London and Lisbon in planes and hotels.
Notes:
[1] William Navarrete and Enrique José Varona. "Una religión que me satisfaga. Entrevista al pintor cubano Ramón Alejandro", La Habana Elegante, Spring 2000. Consulted January 15, 2023. Ramón Alejandro's maternal uncle studied in the Academia de San Alejandro under Cuban impressionist landscape painter Domingo Ramos (1894-1976).
[2] Email correspondence with Ramón Alejandro. January 7, 2023.
[3] "Ni siquiera perdonaba al estilo Gótico y mi repudio del Barroco era total. Ni hablar de la abstracción ni de la modernidad en general. Todo el arte de vanguardias del siglo veinte me parecía una siniestra conspiración para quitarme los maravillosos juguetes que para mí eran el dibujo, la perspectiva y el claroscuro de los pintores renacentistas italianos y flamencos". Ramón Alejandro: Adua la Pedagoga. Aduana Vieja, Valencia, Spain, 2012, p 82.
[4] Email correspondence with Ramón Alejandro. January 7, 2023.
[5] "It is necessary to work, if not from inclination, at least from despair. Everything considered, work is less boring than amusing oneself",  Charles Baudelaire.
[6] The unexpected suicide at the age of 29 of his friend the French engraver, draftsman and painter François Lunven (1942-1971) marked his interest in these philosophical systems and led him to a change of life.
[7] Email correspondence with Ramón Alejandro. January 16, 2023.
[8] For more information on the subject see William Navarrete. Ramón Alejandro: el vimana de la existencia. Cat. Latin Art Core, Miami, FL, January 26 – March 26, 2007.
[9] Emilio Ichikawa Morín: "No somos Occidente. Entrevista al pintor Ramón Alejandro, a propósito de la influencia del francés Louis-Ferdinand Céline en la cultura latinoamericana", Cubaencuentro, Miami, October 03, 2006. Consulted January 15, 2023.
[10] Me complacía estudiar mis percepciones, me acostaba sobre mi cama y escuchaba el silencio hasta creer oir la música de las esferas celestes en un crepitar muy sutil que parecía surgir de mi propio tímpano. William Navarrete and Enrique José Varona: Una religión que me satisfaga.
[11] As per telephone conversation with the author, January 16, 2023.
[12] "les machines d'Alejandro sont à la fois intransitives et in subjectives; elles déçoivent de la sorte la grammaire de la représentation plus efficacement que toute imagination surréelle […] parce qu'Alejandro est peintre, il nous oblige à lire ses machines une seconde fois et à opérer en nous la déception de la déception." Roland Barthes: "Alejandro. A la recherche du mom". Cat. Galerie Jacques Desbrière, Paris, 1971. Originally written in 1969 and published the same year.
[13] L'ange à la fenêtre (1976) the name of this painting is inspired by Gustav Meyrink's novel L'ange à la fenêtre d'Occident published in 1927. This painting was acquired by the well-known Cuban art philanthropist, patron of Cuban artists, and publisher Victor Batista Falla (1933-2020) at the Parisian Galerie Berthet-Aittouarès in 1992.
[14] Ramón Alejandro: "Paisajes metafísicos de célticos resabios", Adua la Pedagoga, Aduana Vieja, Valencia, Spain, 2012, p. 136.
[15] Email correspondence with Ramón Alejandro. January 15, 2023.
[16] I have eyes like lanterns, my mouth is like a lamplight, all the fibers that I carry are lit, inside my heart. There goes Candela. Note written by Ramón Alejandro on the back of his painting named Allá va Candela.
[17] Años después, cuando regresé de Caracas me puse a pintar en París las frutas que me había comido en Venezuela. Empecé con ese tema y pintaba todas las tardes. Por las mañanas me iba al Louvre a estudiar sobre todo la composición de los grandes cuadros de Nicolas Poussin. William Navarrete and Enrique José Varona: Una religión que me satisfaga.
[18] Patakines at Ifá and The Regla de Osha are brief teaching stories used to educate and inform while narrating.
[19] "La libertad ha sido siempre mi mayor pasión." Francisco Morán: "Ramón Alejandro y Severo Sarduy: los veladores de la memoria", La Habana Elegante, Winter 2001. Consulted January 25, 2023.
[20] "[…] cantar la euforia del vivir que a veces de tan fuerte que se siente duele en el pecho. La exaltación de la pulsión de vida que sostiene al universo, su fuerza descomunal, es eso lo que yo quiero pintar. Eso es lo que yo llamo el Misterio." William Navarrete and Enrique José Varona: Una religión que me satisfaga.
[21] Mi curiosidad de conocer el mundo exterior junto con la ignorancia de lo maravillosa que era Cuba realmente, hicieron que salir de ella fuera para mí una fiesta. Más tarde me daría cuenta de lo que había perdido. Pero en ese momento significó para mí el inicio del viaje hacia mí mismo que tanto anhelaba. La conquista de mi soledad. William Navarrete and Enrique José Varona: Una religión que me satisfaga.