It was raining. He asked me if I hadn't been to the ruins and I told him I hadn't. I lied, of course. He asked me why I hadn't gone, and I answered that I hadn't because of lack of time. He knew I was lying, of course, and smiled. In the ten seconds that lasted the smile on his lips, like a tightrope walker clinging on to keep from falling –I mean smiling– he grabbed my arm and led me to the window.
It was night and the sky, more than black, was watery red.
It was a watercolor.
It was night and the sky, more than black, was a landslide of ashes.
It was an avalanche.
It was night and the sky, more than black, was a mantle, a veil, a mourning robe.
It was a phantasmagoria.
Behind the aluminum windows, he pointed there, among the palms, a snake so big that it went round the whole forest. I wanted to see it eating itself, biting its tail. But he put my eyes on his hands and led them to a group of giant spiders that, beyond, had vaulted shapes and four very thin legs on the verge of breaking.
Macabre, small cupolas.
We were in my room at the University of the Arts of Cuba. I was studying a Master's Degree in Dance and I had no other place to live. I had nothing. I really had nothing. But every day I reminded myself that I was studying, and that made more bearable my distress. I had a great privilege: a room of my own. I was also hungry.
In the dining room I met Sandra, a 54-year-old woman who lived nearby, in one of the mansions of the former Country Club Park. A labyrinthine mansion divided into 32 apartments. She served the food and became my friend. Sandra lived in one of the garages of the mansion. She lived alone. Until a year ago she had lived with her two sons.
But now they are in jail.
But now they call her and tell her they want to die.
But now she brings each of them a sack of food every three weeks.
But now she tells me she only lives for them.
Every night, after supper, I would stay in the dining room with her. I got to know her whole life. She got to know me so well that one day, when she noticed my absence, she came to my room and found me crying. When I opened my door, she looked into my broken eyes and said with chilly serenity: "Don't cry for love".
In one hand she carried three pork sandwiches and in the other a jug of hot milk. She put all that on my desk, and lay down next to me. Before that, she took off the doctor's gown she wore to work, always stained with grease and with a smell of freshly made food that had already penetrated the fabrics until it reached her skin, until it became her skin, until it became herself.
That night she told me that her son, the youngest, was mute and could not defend himself in court. He was accused of murder.
"In the garage, the three of us lived happily. We had nothing, but we were happy. Consider that in this country nobody is that happy anymore. How can you be happy in this country? Where nothing works, where nothing is as it should be, where nothing is what it appears to be, where nothing is of any use. Where you get to abandon the person you love the most to go to the United States to wipe butts for a living. As it happened to me. My husband loved me above all else. And I loved him. What's the point? What's the point of us having been together since we were 17 years old? What's the point of him having stopped talking to his mother because she didn't like me? Nobody ever wants poverty. Especially not a mother for her son. For her only son. In her eyes I represented poverty. She had good reasons. I did not study. My parents did not take me to school. In this country, it is said, there has been no illiteracy for a bunch of years. That is a lie. I'm telling you that. And I speak for myself. I can neither read nor write. That's why I want to ask you a favor".
As she knew I was a writer, she asked me to help her write a letter addressed to Miguel Díaz-Canel.
"I want to tell him, in case he doesn't know, that injustices are committed in this country. Against my son, the youngest, an injustice was committed. The other one has to serve his sentence, and I assume it. He knows what he did. But not my kid. My kid is good, I know that. In jail, they punish him and beat him because he doesn't want to communicate with the translator. When I go to visit him they take me to a room to see him. He understands me. I don't know sign language. I speak to him normally and he understands me. Just like I understand him. Last Sunday he told me, in his own way, that he didn't kill him. And it's all the fault of a pigeon. My boy raised pigeons and hung out with people from that world. I told him to get out of there, that it was no good. He was obsessed. He spent all day in the pigeon loft, above the garage. I would bring him peas that I stole from here. That's what he fed them. That's what he fed them and that's what we fed ourselves. Luckily I have always worked in kitchens. I have always fought for food. That night there were three knocks on the door. Tum, tum, tum."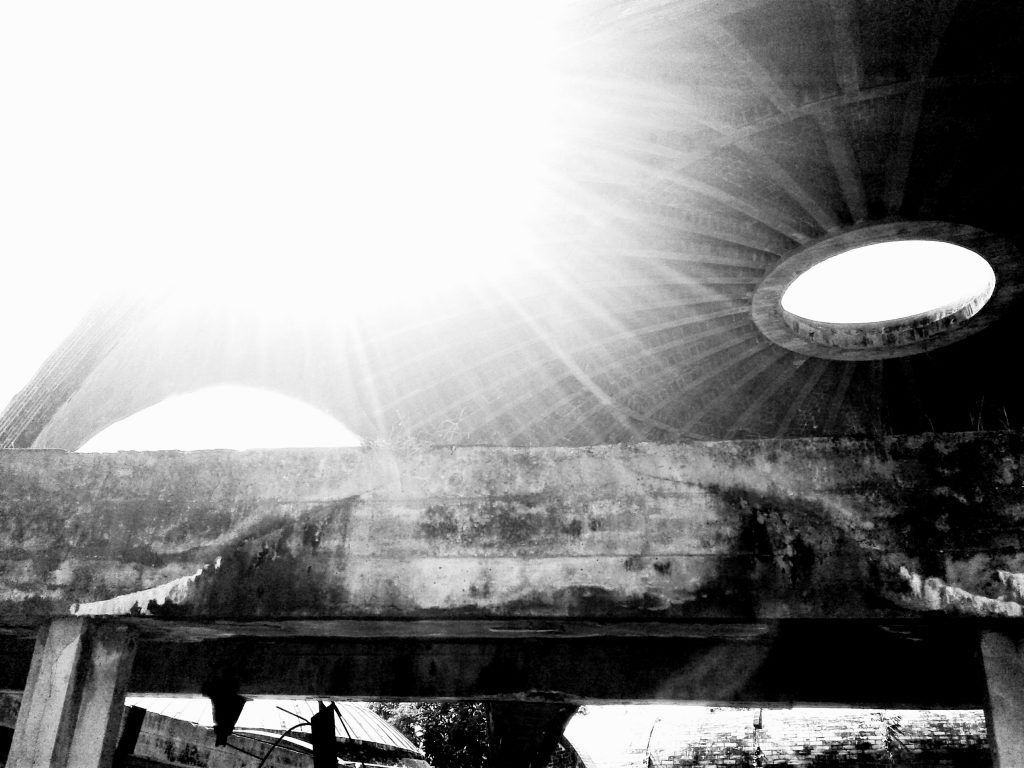 That night, minutes earlier, the Kid had come running into the house. He went to bed, without saying anything to her. He came in a soaked shirt. She thought it was sweat. She said something to him and the Kid didn't answer. He got into his little bed, next to the big bed where she used to sleep with her other son and where, now, she sleeps alone. The kid did not take off his shirt, did not take off his pants, did not take off his underwear –he always slept naked–; he did not take off his socks or shoes. He just lay down and made a cave with the sheet. My friend didn't say anything else. My friend knew that the Kid, at times, could be very violent.
At midnight, three knocks. Tum, tum, tum. At midnight, one knock. Tum, tum, tum. At midnight, a siren sounds. Tum, tum, tum, tum. At midnight, a tremor. Tum, tum, tum, tum. At midnight, the Kid had not yet fallen asleep, and neither had she. Tum, tum, tum, tum. At midnight, two policemen stood in front of the garage and asked for him. For her kid. She asked for explanations and screamed as only a mother can scream.
The two policemen, like two beasts, threw her to the ground, and pulled him, her kid, out of the air. Under the light of the lantern she saw that the stain was not sweat, but blood. And she saw that one of the policemen, like a beast, was pointing a dagger at her.
"Do you recognize it?"
"No. I had never seen it before".
"Your son is not a saint. Your son is a murderer. This is the murder weapon. We found it in one of his pockets".
"My son is a good boy, and neither you nor anyone else can tell me what I know. My son is innocent. My son is innocent."
"We'll see about that."
"He didn't kill anyone. I'm sure it was someone who was with him".
"The one he killed is dead. He killed him because of a pigeon that had left with his flock".
That night Sandra stayed in my room, and the next morning, at six o'clock, she went to serve breakfast. She woke me up and said, "Forget about the letter to the president. That guy's an asshole".
I couldn't sleep anymore and went out for a run around the mansions in Havana's most luxurious neighborhood. In that area there are places blocked with fences three meters high. One of them is El Laguito. In the 50s, not only the most powerful people in Cuba, but also in the world lived here. The people who ruled the world lived here. Now, here lives the small military group that leads a country into the abyss.
One of those mornings when I was out jogging I found an abandoned mansion. As I have always had a fondness for ruins, I crossed the fence and entered through an open back door. It was the kitchen door. I entered and the first thing I saw was a framed photograph of Camilo Cienfuegos, "Lord of Vanguard".
In what used to be the main hall I saw hundreds and hundreds of green, military iron helmets. In a room there was, covered by cobwebs, a communication center. Hundreds and hundreds of helmets. Hundreds and hundreds of cables. Debris.
Another day, two pot-bellied guys in striped t-shirts blocked my way.
"You can't come in here".
"Why not?"
"Because you can't".
"Where does it say so?"
"It doesn't have to say it".
"And why's that?"
"Because we say it".
"And who are you?"
"Two revolutionaries. What's more, turn around and get lost. No one can come in here. This is a military zone. If you have any doubts, let us know, we have a patrol there."
Sandra told me that Miguel Díaz-Canel lives with his family on that block. She used to take that way to go to her house because it was on her way. But not anymore. Since the "asshole" moved there, she has to make a detour and walk twenty more minutes. She also told me that the house has a swimming pool, and that her husband used to work there as an electrician.
I just read that the architect Vittorio Garatti died in Milan at the age of 95, and I remember that Sandra and I used to go eat mangoes from a bush in the ruins of the Ballet School, which one day was also going to be part of the National Art Schools in Cubanacán. Sometimes Sandra would finish her shift at about three in the afternoon and I would accompany her to the fence of what today is the University of the Arts of Cuba. She, always in her greasy doctor's gown, would go through a hole because that way she could get home faster and didn't have to take a detour. That is, she didn't have to face the two pot-bellied guys who protected the autumn of the patriarch.
Before saying goodbye we would throw stones at the mango trees and they would fall and fall and fall. In spite of our sadness we laughed like two children. My friend would help me collect some mangoes in a bag so I could eat something for the weekend.
Then I would stay among those ruins. Among those ruins I read only one book: The Tin Drum by Günter Grass. I have never felt more alone. I have never felt sadder.
Those ruins were to be the most beautiful buildings ever built in Cuba. They are, in a way. The architect Garatti built his Ballet and Music Schools like two lips crossed in the middle by a river. The Quibú River. I spent hours amidst the echo of those corridors. I spent hours inside "the Worm", as they call what came to be built of the Music School. I went into unsuspected places. I imagined everything finished. I imagined violinists inside those cubicles, strumming the strings of their instruments.
I spent so many hours inside those ruins, alone, that I came to believe in the mutability of bodies, of my body, turned into a saprophytic fungus that feeds on decaying matter, that is, that feeds on ruins.
I did see, in the middle of the Garatti's ruins, violinists. I did see flute players. I did see trumpet players. I did see guitarists. I did see dancers improvising on the grass, on the domes, in the corridors, in the cubicles. I did see actors reciting Strindberg. I did see, I did see them, all of them, kissing, hiding, from horror.
I saw them all and none of them saw me.
Garatti never imagined that his projects (severed by Fidel Castro) were going to be projects of dissident art and life, that which is played on the margins, with the nerve of war in the heart.
That night it was raining, and he took me to know that which I did not know. We both knew he was lying, but it doesn't matter. That night it was raining, and we entered that worm that from the window looked like a snake so big that it enveloped everything. We crossed the Quibú and jumped over the water that accumulated in one of the fountains designed by Garatti. We ran through a tunnel full of skylights that, at this hour, became circular waterfalls. Under one of the domes we shouted the word love so loudly that it remained for minutes, countless minutes, held by the echo.
That night it rained so hard that the Quibú rose and rose and reached us. It flooded everything. It flooded us. It drowned the echo.
---
* Ballet School (National Art Schools in Cubanacán, Havana), designed by Vittorio Garatti (Milan, Italy, 1927-2023). / Photo: Edgar Ariel.